---
SNOW REPORTER BIOGRAPHY - EVAN PACEY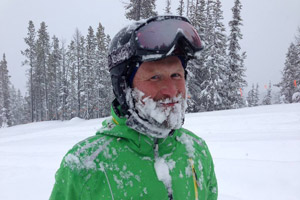 The Wandering Wordsmith returns to bend the quill to his will for a 10th season of rhyming with reason! The 5AM alarm call asks the bleary of eye to resolve a clarity of word. Meet your Snow Reporter:
Beneath his feet, one plank or two, it matters not, his aim is true;
Backside or front, good turns are sought, once for the arc, then to report.
Looking to raise the bar (or sometimes just prop it up), he likes to get physical with the physics, be it bending the lower joints or the elbow. After poring over analytical tools each morning, taking intel from the brainstrust, the wealth of knowledge and wisdom from the Panorama Avalanche Office, and reports from the grooming crew, he aims to translate the precipitate and lead you to the rough diamonds and well groomed alike. While always seeking signs of snow, he knows his semaphore from his metaphor and his airhead's from his oxymoron's. Explain and infotain is the name of the game for a man who knows that mo' snow helps his mojo!
---